From Betsy Ross to Old Glory, America's flag has an amazing history behind it. Let's take a look at some not-so-common flag facts: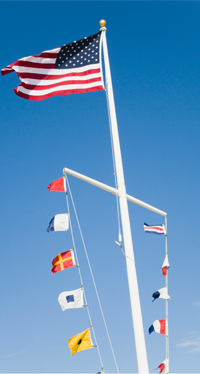 Though most people credit Betsy Ross with creating the original American flag, the only records of her involvement are from her grandson's 1870 presentation to the Historical Society of Pennsylvania including family member affidavits to support his claim. Named as the flag's designer in early Continental Congress journals, many historians believe that Francis Hopkinson to be the flag's designer. Ms. Ross stitched an early

applique flag

in that design.
Our current flag's design was created by 17-year old high school student Robert G. Heft. Created as part of a history project in anticipation of Alaska and Hawaii's entry into the union, he then sent it to Congress for consideration. President Dwight D. Eisenhower chose the design over 1,500 other applicants in August 1959 and called him with the news. Originally given a B- for the project, his teacher changed his grade to an A following the announcement.
In spite of freezing temperatures, virtually no atmosphere and abounding space debris, out of the six flags planted while Apollo moon missions were underway,five are still standing. The sixth fell over from Apollo 11's exhaust when it lifted off.
Handling and display of the flag fall under federal regulation, commonly referred to as the

U.S Flag

Code. Restrictions include bans on the flag's likeness in advertising or printing it on an item intended to be thrown away and require that the flag either be lit overnight or taken down at sundown. An additional 1989 law, the Flag Protection Act requires criminal penalties for flag desecration of certain types. It was overturned as unconstitutional by the Supreme Court in 1990 under the First Amendment's free speech protections.
Old Glory refers to a particular flag owned by William Driver, who was presented with it by women in Salem, Massachusetts, his hometown. Seeing it flying upon his ship in 1831, he gave his flag the nickname that went on to represent all US flags.
Whether you're looking for your own Old Glory to fly or need a banner maker for your own design, please contact Accent Bannerfor quality flags.