Commercial Flagpole Repair & Flagpole Maintenance
One of the many characteristics of Accent Banner that sets us apart from comparable companies is ou
r
installation, removal and commercial flagpole maintenance services. Many flagpole owners are not aware of the importance of maintaining a flagpole and flagpole hardware until it is too late. Our experienced field services team can provide a site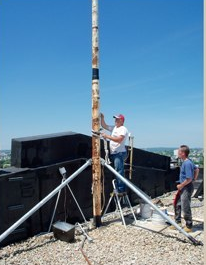 visit to assess what repairs or replacement parts your flagpole may need. Once the problem has been identified Accent Banner's team will arrange of flagpole services which includes installation, repair, provide reliable service and high quality products to resolve the issue correctly & safely.
Flagpole Installation and Flagpole Removal
If you have a flag or flagpole that is in need of flagpole repair or maintenance we advise that you do not try and remedy the problem yourself. Our field services team takes great pride in our knowledge of flagpoles and the proper way to keep flags flying safely for our clients. We also can provide full flagpole installation services. Installing a flagpole is no easy task and we take every safety precaution to make sure the job is done correctly the first time.