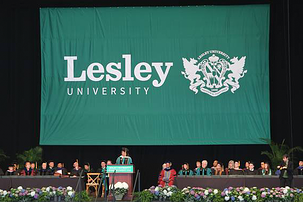 When you need to provide a great impression, there are few products that create a serious "wow factor" as custom backdrops. Whether you need graduation backdrops for a big day, an applique backdrop for your next big event or other custom backdrops, there's no doubt that these large-format pieces grab your attention and provide amazing visual graphics.
Our Creation Process for Amazing Large-Scale
Backdrops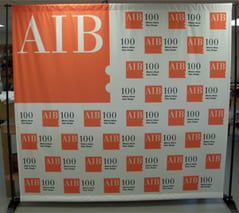 When we create custom backdrops for our clients, we take a wide range of factors into account. Will the backdrop be used indoors, outdoors or both? Does it need additional finishing services such as grommetting, reinforcement or trim? Beyond these type of decisions, we also help you decide which techniques will best convey the image you're trying to create.
We are able to put your branding and identity on your custom backdrop in a variety of different ways. An applique backdrop conveys the most professional and opulent appearance, with layers of different colored fabrics sewn onto your backdrop by our skilled craftsmen. We're also able to provide printing services for your backdrop, which uses a paint-like material to provide a larger gradient of colors and more realistic images, though they're not as opulent as the applique backdrops we manufacture. For the best of both worlds, we've developed a hybrid process that gives you the colors and depth that printed backdrops convey while still creating the wealth and professional appearance of an applique backdrop.
The Many Uses for Custom Backdrops
A very common use of this type of product is graduation backdrops, which disguise a gymnasium or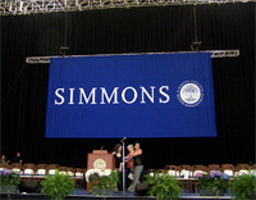 similar room by covering the walls with beautiful fabric that is personalized with your school's logo, motto or similar item. But if you need something on a smaller scale, adding a great backdrop to your trade show booth helps divide up space between booths even more effectively, creating a more intimate space and blocking distractions from neighboring booths. Even better, backdrops travel easily and still look great, even show after show and year after year. They can be displayed behind a table in your office or lobby, creating a great place to lay out literature for passers by.
A backdrop is an effective tool in your marketing and decorating plans that can make a big impression and help promote your business or organization. At Accent Banner, we've been providing backdrops, banners, flags and other materials for the greater Boston area for over 20 years. Contact us today with questions, for more information or for a quote on a backdrop for your business or organization.