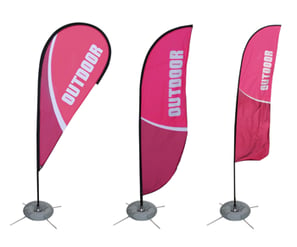 Feather Banners
Feather banners, also known as teardrop banners, are both lightweight and affordable. Custom feather banners provide the ideal method for businesses such as restaurants, retail establishments, fitness centers and more, to create a fantastic and attention-grabbing visual. Events such as non-profit fundraisers, weddings and corporate events can be celebrated in a creative way when using custom teardrop banners. Long lasting and versatile, these custom banners give the customer the flexibility to change their message to suit their events and circumstances.
Our Manufacturing Process
With custom feather banners, you decide what your banner will look like, and Accent Banner will create a design for you. Accent Banner uses several different techniques to print banners. Dye dispersal printing and screen dyeing permits the banner to have your image on both sides. This is accomplished by using dye which saturates the entire material. If you want your image to show up only on one side, dye sublimation and digital printing is used. Reinforced edges and hems that are double stitched ensure that these banners can withstand the elements, such as the rain and the sun's rays, day after day. It is recommended, however, that you bring your banner inside at night and during times of extreme weather. Once the banner is manufactured, it is placed on a lightweight pole to allow the utmost in portability for you, the customer.
Uses for Feathered Banners
Custom teardrop banners allow you to explore -- and express -- your creativity to its limits. Purchase several to match the various sales you are planning for your retail store throughout the year. You can easily interchange them as often as you like due to the simple design. Boost game day excitement and loyalty by using a banner to draw attention to the event. Celebrate a new marriage or the arrival of a baby by having custom feather banners made for the occasion. Accent Banner is the premier designer and manufacturer of flags, banners and signs for the Boston, Massachusetts area. For more than 20 years, Accent Banner has been helping businesses and residents celebrate the important events in their lives.