Hybrid Flags and Banners
What is a "Hybrid" in regards to banner and flags?
Typically the choices for the type of flag or banner are either digitally printed or hand sewn applique. Which type you get is usually determined by what sort of image you'd like to project in tandem with your artwork and/or your budget. Our "hybrid" flag option combines both methods into one banner and is able to combine the classic stitchwork of applique with the detailed design capabilities of printed flags.
Applique Flags Vs. Printed Flags
The sewn applique product has associations of tradition and premium quality that can be quite appealing, especially for an athletic or academic institution. It's great for creating a strong graphic image particularly when the artwork is simple. Applique pricing is determined by the complexity of the design and the labor that goes into sewing it.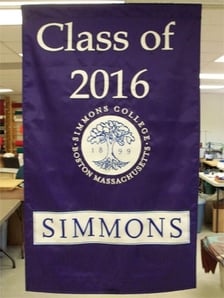 Digitally printed flags and banners are great when you have a high resolution design that is outside the scope of what can be done by hand via applique. Printed flag pricing is determined by the size and the material, regardless of the design. They can include realistic photo images and detailed graphic designs. Because they are printed via a machine and not by hand like applique they are therefore sometimes a more budget-friendly option.
Combining Them To Make a Hybrid
Suppose you want the look of a sewn applique banner or flag for its strong graphic appeal, durability and traditional flavor, but you have a detail in the design that would make it too costly to sew. In this scenario we can digitally print the detail on suitable fabric and then zigzag stitch around the perimeter of the printed detail to create a patch on the applique field. This will work with athletic banners where a team has picture of a team mascot they want to include in the championship banners in the gym as well as for a business that has a complicated graphic logo they would like to include on their outdoor flag. Hybrid flags can be a great solution when looking for a combination of quality, design, and price. Request a consultation with one of our specialists to see if hybrid is the right option for you!