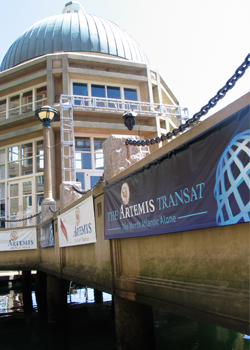 Vinyl Mesh Banners
Vinyl mesh banners provide the ideal method to get your message across without worries about durability. Designed of tough vinyl mesh that can withstand challenging weather conditions, these custom banners look fantastic for years to come. Because they are made of vinyl mesh -- which has hundreds of tiny holes -- the wind passes easily through them, easing its resistance. The effects of a robust wind, such as making the flag noisy or whipping it about, are reduced significantly.
Our Manufacturing Process
At Accent Banner, we pride ourselves on using only the best manufacturing processes to ensure a high quality product for our customers -- every time. Working closely with you to design the perfect vinyl mesh banners for your needs, we use digital, sublimination and dye dispersal printing methods to achieve the results you desire. In some cases, the final color of your custom banners might be lighter than it appears in your proof. This is especially true when you use dark colors or when the banner is backlit. Our finish work methods -- which include metal grommets, hemmed edges and more -- are designed to help your banner last for years.
Vinyl
Mesh Banners
Due to the unique design of vinyl mesh banners, they can be used in many different locations, including those that experience a great deal of wind. Use them to provide a barrier while construction is being undertaken. They make it easy for you to utilize the space for advertisement purposes or simply to let your customer know that you are still open for business. Promote your business at a local sporting event with a custom banner that is hung along a fence. With vinyl mesh, you don't have to worry about the noise that is often experienced with other types of banners as they flap in the wind.
At Accent Banner, we have been helping the Boston area with its signage needs for more than two decades. As the area's premier designer and manufacturer of custom banners and signs, Accent Banner has the expertise to provide you with high-quality products and superior customer service.