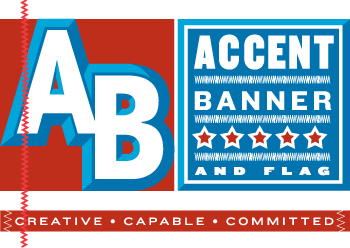 Inspired by a rich New England heritage, Accent Banner and Flag is an established, quality-driven, service-oriented specialist in:
Custom-designed and fabricated flags, banners, and specialty signage,
Readymade flags, poles, and accessories,
Commercial and residential flagpoles and flagpole hardware
Installation and maintenance services
Our comprehensive line of products and services is managed by our informed, creative, and capable staff. Our emphasis on excellence is reflected in the way we build our products and conduct our business…. and is consistent with our commitment to the goal of complete customer satisfaction.
We are proud to say that our products are "Made in the USA."
Visit Us:
17 Locust St.
Medford, MA 02155
Contact Us:
P: 1-800-367-3710
F: 781-391-6730
E: info@accentbanner.com