Athletics flags are one of our more popular products at
Accent Banner. We create custom athletics flags and
banners for clients ranging from high schools, colleges,
and even to professional sports teams. Championship flags and banners are a real specialty of ours and we take pride
knowing they'll be displayed in gymnasiums, arenas,
and fields all across the country.
Athletic Flag Manufacturing
Athletics flags come in a variety of sizes, shapes and colors. To account for this we employ a number of different flag manufacturing techniques to ensure we choose the right fit for our client. Depending on the scale, color, and technical detail of the flag we will choose one of the the various production methods. These style choices include applique flags, printed flags, or hybrid flags. Each has their own unique uses and benefits. To learn the difference between the options please read our blog post on the 3 terrific types of custom flags.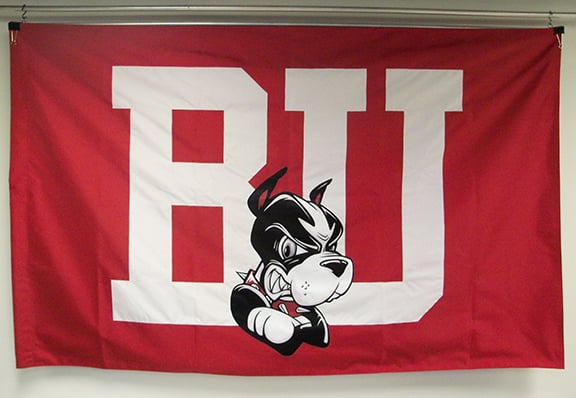 Get a FREE Quote on Custom Athletic Flags:
We work closely with all our clients to ensure that we provide the best long term solution for their athletics department. We understand that creating the right solution, as opposed to the most expensive one, is the best long term method of business for both ourselves and our athletics flag customers.
Contact us today to receive a free quote on an athletics flag or banner. Our sales reps are happy to walk you through the process and help decide which option will work best for your team. Click HERE to receive a custom athletics flag quote or click the image below to download our guide on athletics banners and flags.