Corporate Flags
When you want to add a touch of class to your business' exterior, customized corporate flags can create a great professional appearance. Our custom flags for businesses give you an attractive, durable option that is long lasting and made with pride in the U.S.A. using high-quality materials. Business flags help provide a touch of class and professionalism to your corporate headquarters.
Our Manufacturing Process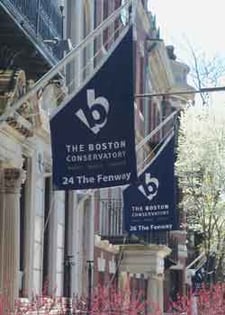 At Accent Banner, we're able to provide you with three different manufacturing processes to develop a professional corporate flag for your business. Our applique process involves layering fabric on top of the base flag and stitching it into place, creating a high-quality, very durable and very attractive option for your corporate banners. Applique flags and banners are our specialty at Accent Banner, and is a technique that would make your businesses flags stand out in terms of quality. Our printed process involves laying dye onto the flag's surface, allowing us to get a much finer detail at a lower cost, but the printing tends to be somewhat less durable for long-term outdoor use than our applique flags. Our hybrid process gives you the best of both worlds, delivering the durability and professional appearance of the applique process with the fine details that our printed process provides.
Our designers use their extensive skills to create graphic designs and manufacturing skills to create a business banner that looks fabulous. In addition, we use double-stitched hems and several other features designed to help increase durability while our manufacturing process has been perfected during the twenty plus years we've been in business. We want to give you maximum delivery for a minimal cost. We can help you create a completely customized design using your company's graphics or can give you complete design services.
Advertising with
Corporate Flags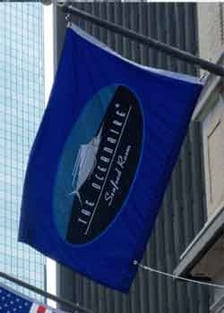 Corporate flags and custom business banners help capture attention because motion attracts the eye. Placed below American or state flags at your corporate headquarters, corporate flags provide a touch of class and an awesome appearance for your business. They're great for businesses in historic districts where signage must be limited by code. Because they're unique, consumers spend more time looking at them than at traditional signage, and they are a great way to advertise in specific areas more effectively. Corporate flags are an excellent way to create location-based interest for your business to potential clients.
With over two decades serving the greater Boston area, Accent Banner has become known as a designer and manufacturer of some of the highest-quality flags and banners in our area. Whether you need gonfalons for a special event, light pole banners for the street in front of your building, custom trade show products, or other flag and banner-related items for your business, we will work with you to find a custom solution. Please contact us for information about creating attractive advertising options that promote your business.