Flag Installation & Banner Installation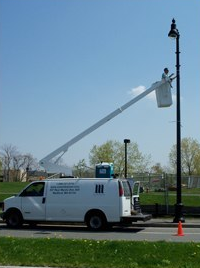 A successful flag or banner project is reliant on proper display, which in turn depends on proper flag installation. Accent Banner's Field Services unit will install any item we furnish, including commercial, municipal, and residential flags and banners. From pole banners to large-scale wall mounts to free-hanging suspensions to outrigger poles — we carefully assess site conditions and apply the right hardware and anchoring techniques to get the job done securely.
Installing a Banner or Flag
The flagpole installation process is often one area that is overlooked in terms of its importance. Not only do you often need the correct permitting and permissions to install flags and flagpoles in certain locations you also need a real understanding of how to do it correctly and safely. A flag, banner, or flagpole that is incorrectly installed can be a huge liability for any residence, business, or municipal office. We highly recommend that you contact our field services team at Accent Banner to get advice from our professionals about installation and removal before attempting to do anything yourselves. Our team has years of on-site experience and will help ensure that your flag, banner, or flagpole is correctly installed and will give you the peace of mind that you can fly your flag legally and safely.