Steps to build a successful Light Pole Banner campaign
Build your Graphics
Choose your size
Suitable Location
Choice of Fabric
Determine Print process
The rite Hardware
Expert Installation/Removal
Looking for an exceptional way to advertise? Our custom light pole banners provide a great way to get the word out about your business, organization or event. Created with pride in the U.S.A., we use quality materials to provide durable and attractive light pole banners that are customized to meet your needs. Here is an info graphic on the A to Z services we provide on light pole banners.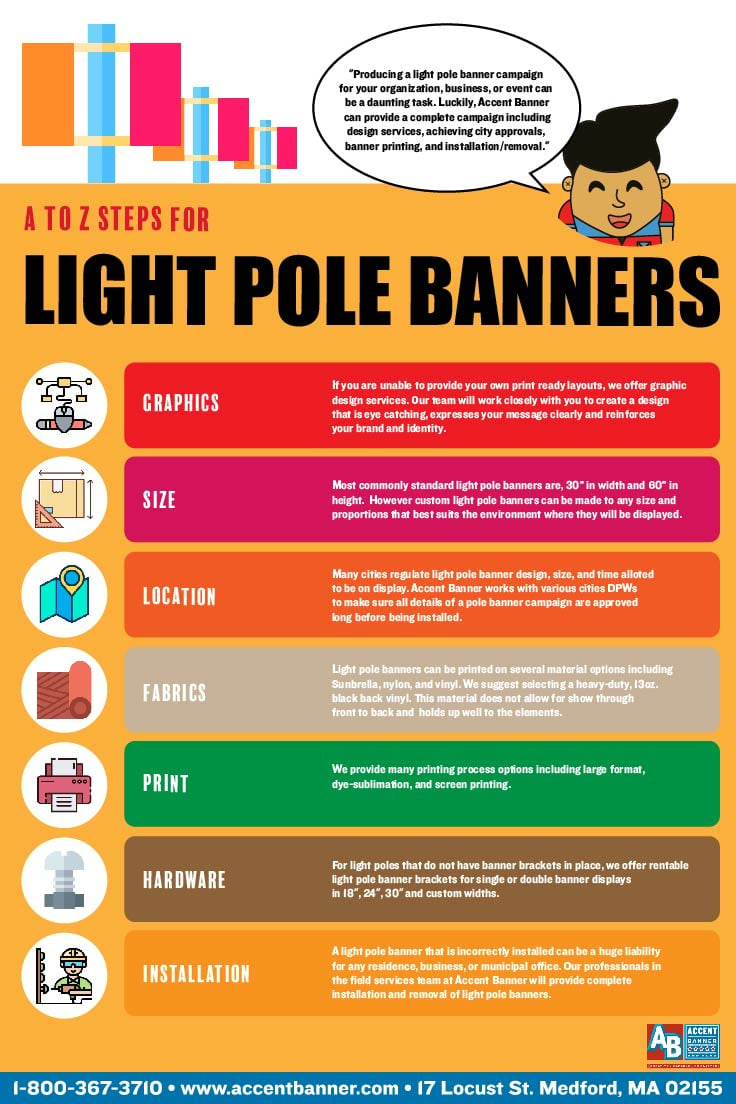 Producing light pole banner campaigns for your organization, business or event can be a daunting task. Luckily, Accent Banner can provide a complete campaign including design services, achieving city approvals, banner printing and installation/removal.
Graphics
If you are unable to provide your own print ready layouts, we offer graphic design services. Our team will work closely with you to create a design that is eye catching, expresses your message clearly and reinforces your brand and identity.
Size
Most commonly standard light pole banners are, 30" in width and 60" in height. However custom light pole banners can be made to any size and proportions that best suits the environment where they will be displayed.
Location
Many cities regulate light pole banner design, size and time allotted to be on display. Accent Banner works with various DPW's to make sure all details of a pole banner campaign are approved long before being installed.
Fabrics
Light pole banners can be printed on several material options including Sunbrella, nylon and vinyl. We suggest selecting a heavy-duty, 13oz. black back vinyl. This material does not allow for show through front to back and holds up well to the elements.
Print
We provide many printing process options including large format, dye sublimation and screen printing.
Hardware
For light poles that do not have banner brackets in place, we offer rentable light pole banner brackets for single or double banner displays in 18", 24", 30" and custom widths.
Installation
A light pole banner that is incorrectly installed can be a huge liability for any residence, business or municipal office. Our professional in the field services team at Accent Banner will provide complete installation and removal of light pole banners.