A Gonfalon is made up of,
Design/ Shape of the Gonfalon

Emblem/Shield of the Institution

.

Text or Slogan

Decorative Elements
Gonfalons are often shield-shaped, which hang from a crosspiece on top of a pole. They will bear set of symbols that best represent the historical elements of your organization, business or event. To design a custom gonfalon, you can now refer to the below fun infographic to understand the basics of gonfalons.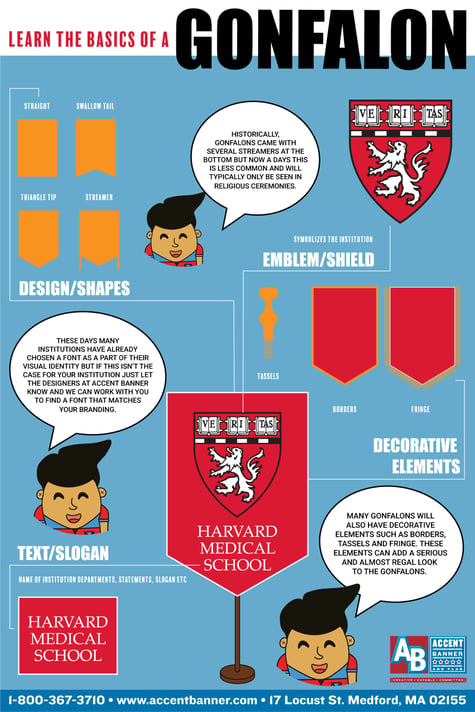 Historically. Gonfalons came with several streamers at the bottom but now a days this is less common and will typically only be seen in religious ceremonies. These days many institutions have already chosen a font as part of their visual identity but if this isn't the case for your institution just let the designers at Accent Banner know and we can work with you to find a font that matches your branding. Many Gonfalons will also have decorative elements such as borders, tassels and fringe. These elements can add a serious and almost regal look to the Gonfalons.
There are different shapes/designs in a Gonfalon, a few are:
Straight
Swallow Tail
Triangle Tip
Streamer
The different kinds of decorative elements which can be added to your Gonfalons are:
Tassels
Borders
Fringe
The Text/Slogan part of the Gonfalon can be,
Name of the institution
Name of the department
Statement
Slogan
The Emblem/Shield will be the symbolic representation of the Institution.
Looking for an exceptional way to advertise? Our custom light pole banners provide a great way to get the word out about your business, organization or event. Created with pride in the U.S.A., we use quality materials to provide durable and attractive light pole banners that are customized to meet your needs. Here is an info graphic on the A to Z services we provide on light pole banners.