Light pole banner campaigns are very powerful marketing opportunities in and around Boston, MA. We have been providing a wide range of customers with light pole banners, installation and removal for decades. We are experts at working with the City of Boston to achieve campaign approvals. Below are 5 things you should know when considering a street light pole banner project in Boston, Massachusetts.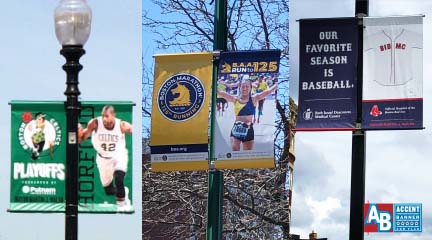 - All light pole banner campaigns must be approved by the City of Boston's Public Works Department (PWD). Requests must be submitted no earlier than 90 days before installation and no later than 30 days from installation.
- Official requests for a banner must include, a description of the campaign and its sponsors, a proposed list of poles, a proposed draft of the banner, and proposed dates of installation and removal.
- Banners to be displayed must be double-sided and have 2 banners to a pole. Each banner should be 30"W x 60"H and include a 5" pole sleeve along the top and bottom.
- On each pair of banners, the design should include "City of Boston" and the Mayor's name as a footer in the lower 10%.
- The rental fee for a 30-day time period of display is $50 per pole. The City of Boston will charge the light pole banner vendor/installer the applicable rental and permit charges. All other billing aspects would be between the client and contractor.
More information can be found at: https://www.boston.gov/departments/public-works/city-boston-banner-program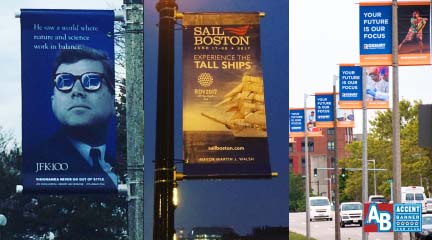 Click the button below for more information, design tips,
and light pole banner examples.
THANKS FOR READING OUR ARTICLE!