Light Pole Banners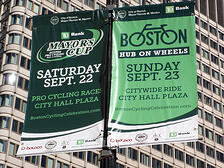 Looking for an exceptional way to advertise? Our custom light pole banners provide a great way to get the word out about your business, organization or event. Created with pride in the U.S.A., we use quality materials to provide durable and attractive light pole banners that are customized to meet your needs.
Our Pole Banner Manufacturing Process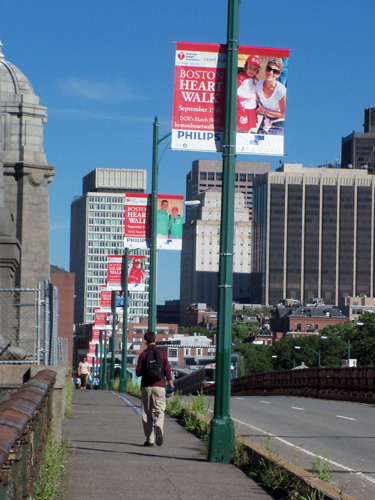 The combination of durable vinyl, double stitched hems and pole pockets, and the highest quality printing available make our pole banners durable and attractive. As a low-cost, durable material for outdoor advertisement, vinyl can also be used in a number of other advertising forms including business banners, signs and flags, making it easy to match your advertising materials.
We provide double-stitched hems and pole pockets for our banners so that they'll stand the test of time while continuing to look great with long-lasting color. Our manufacturing process has been developed for the 20 plus years we've been serving the greater Boston area to provide maximum delivery for minimal cost.
We can also provide whatever level of development you'd prefer. We can work directly with you to develop a completely customized design for your street pole banners, featuring your own graphics. We're also able to provide complete design services, freeing up your time to focus on what matters most for your event, organization or business. Tell us what you need and we'll make it happen.
Advertising with Custom Light Pole Banners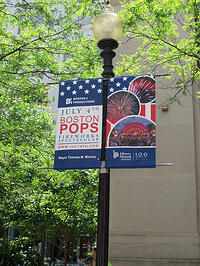 Street pole banners are most commonly used for advertisement and promotional means. They provide an eye-catching, colorful design that provide a great appearance, making them a perfect choice for beautification projects. This also means people spend more time looking at them than they do traditional advertising, helping get your message across. Costing less than traditional advertising forms, they're often just as effective while targeting a specific area more effectively.
Commonly used for festivals, holidays and special occasions, they're often used by municipalities to create interest in these events. They're also commonly used by larger institutions, such as hospitals and universities, to advertise in a stylish way. When used for businesses, they create a direct link from your prospects to your business.
As a flag and banner manufacturer, we've been serving the Boston, Massachusetts area for over 20 years. Contact us today to discover what we can do together to promote your business and create stylish advertising to help you meet your goals.