Table Drapes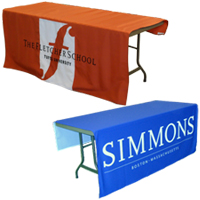 Having great-looking table drapes or table skirts can help create a professional appearance at your next trade show. Table skirts and custom table drapes not only cover otherwise boring tables, but they also help to develop a better and more professional image for your business or organization.
Our Creation Process for
Custom Table Skirts
Our custom made table drapes can be created using appliqued, printed or hybrid manufacturing techniques. We can offer them in a wide variety of colors, styles and sizes to meet your business' or organization's specific needs. Applique table drapes present a very professional and rich appearance for your company or oganization. They are created by hand by our exceptional craftsmen, who are able to stitch different fabric colors on top of the base table drape or table skirt. This process, called applique, is our specialty at Accent Banner and what sets our products apart. Visit our applique page to learn more about the process of applique.
Additionally, we can of course also offer printed table drapes, or even a "hybrid" product that incorporates both printed and applique processes. All solutions we offer represent the highest quality options on the market and we will work with you and your team to find the one that suits your needs the best.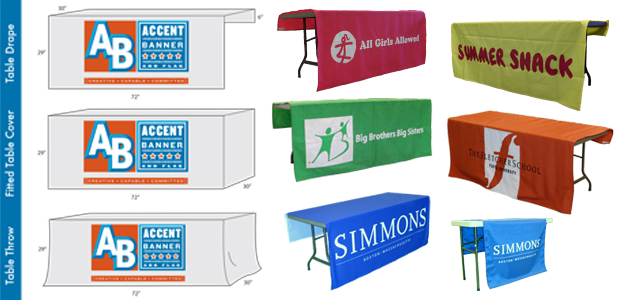 Using Table Drapes to Promote & Your Brand or Organization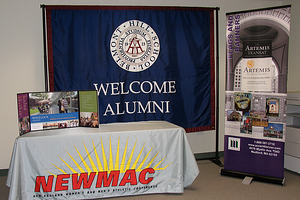 Table skirts can be used for an endless number of possibilities. Whether it's attending a corporate trade show, representing your college in an admissions hall, or a girl scout troop using them at a bake sale; there's countless applications. Beautifully made table drapes can help your company or organization convey an appearance of professionalism and brand awareness. They can also serve to create an effective storage space for boxes, bins and supplies underneath the table, hiding them from the public eye.
Since 1992, Accent Banner has been serving the greater Boston area, providing a variety of promotional and decorative pieces that have helped a wide range of area clients create a more professional appearance and convey their marketing messages. If you'd like more information on our custom table skirts or other trade show products, please contact us today for more information or to request a quote.