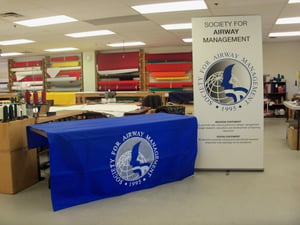 In the event planning business it's essential that you know how to disassemble, store, and set up basic event supplies and equipment like table drapes and conference table skirts so that they're ready for use. Here are some tips on caring for table drapes and related items that will ensure that when your event crew starts setting up for that event that "starts in three hours", you don't find yourself on the phone scrambling for rentals or running out to your local office supply store.

Materials for table cloths
Take into consideration the fabric of your table cover. Never apply bleach solution directly onto the fabric. And most table cover fabrics don't do well under high temperatures in the cleaning and drying processes. Below are treatment suggestions for the most common fabrics that the article mentions. Always try and use cold water with mild detergent. Make sure air dry so the fabric doesn't shrink.
Cotton: Avoid washing cotton table covers in hot water, as cotton shrinks under high temperatures. Use cold water to wash, and completely air dry. Do not use a machine dryer.
Linen: Wash with cold water, and follow through with a cold water rinse. To dry, let the linen air out or hang it out to dry.
Polyester: Use the recommended temperature indicated on the label. Remember that polyester damages under hot temperatures, so keep the temperatures cold whenever you wash, do not use heat.
Nylon: Check the fabric for oil-based stains and pre-treat them at once with cold water. Wash in cold water as well to keep the material from shrinking.
With so many different syles of table drapes is essential to also know what material they're made of.
Table runners and hanging banners
Table runners are placed over the table covers and usually require the same cleaning and storing instructions as above. Banners for draping from tables or hanging from poles, on the other hand, are frequently custom-made. They provide great opportunities for organizations to show their logo and brand identity. For the washing, cleaning or drying of banners, follow the instructions closely on the manufacturer's label. This is particularly important, because banners are usually constructed of layers of custom-stitched pieces that vary from each other in fabric composition.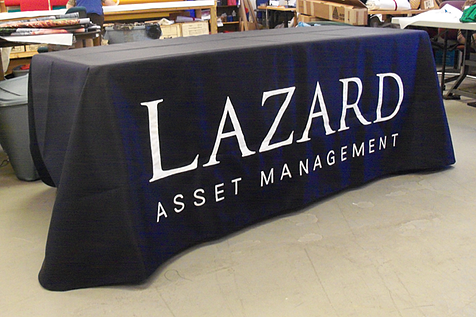 *We create custom table drapes for a variety of businesses and industries
Storing table drapes or covers
Never fold table covers so that a fold line appears. Wrap the freshly-cleaned table cover around a cardboard tube, and store the tube upright.
Conference table skirts
Frequently called skirts, these cloths run along three-sides of the table, from the rim to the floor. For use at professional events, they are clipped onto the table rims after fresh table cloths have been placed on the table, and are held in place with special plastic clips that have been designed for the purpose. Cleaned, stored and set up properly, table skirts give your registration, trade show, and graduation and conference tables a professional look.
Storing conference skirts: Banquet halls and conference centers store conference skirts by hanging them vertically. They are folded multiple times into a square or rectangle while you grasp them at the gathered or pleated waist. They are then fitted into the slots of specially-designed racks that allow them to hang vertically. If you do not have a way to let the folded skirt hang vertically, fold it neatly (but not tightly) and place it on a shelf. Keep the plastic clips in a small bucket or other handy container and store it within reach of the skirts.
At Accent Banner, we specialize in making custom aplique banners for all types of events and organizations. If you have questions about the care of table drapes, ordering custom banners, or anything else, please contact us.