Flag Cleaning 101:
How to Wash a Flag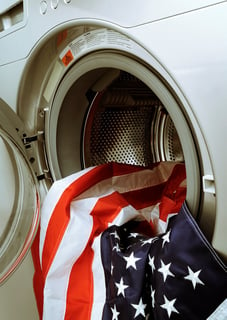 We often hang flags to proclaim our patriotic spirit. This is especially true for retired veterans or those who have loved ones serving in the military or armed forces. An American flag can be particularly tricky to wash and can pose a problem when trying to successfully complete flag cleaning on all the different colors at once. Red, white and blue lying together in one inseparable panel can cause the blue or red dye to bleed onto the white. This is not just a problem with an American flag; it is a problem with any flag that has light and dark colors.
Inevitably a flag with become dirty or weathered from continued usage. Try to follow the steps below to learn how to successfully wash a flag of different materials.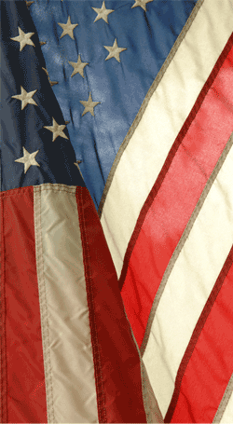 Polyester, Nylon, or Synthetic Flag Cleaning
Polyester, nylon or other synthetic fabrics are generally safe to wash in a machine. Set the washing machine on a gentle cycle with warm water. Add a mild liquid laundry detergent to the wash water. You can also hand wash the flag with a mild liquid detergent made for delicate items. Hang the flag to dry on a breezy day, out of the sun. The water will intensify the sun and cause fading.
Cotton or Wool Flag Cleaning
Cotton and wool flags are more fragile and will usually require professional cleaning by a dry cleaner. Having them handled professionally helps to keep the colors from bleeding. Choose a dry cleaner if you do not have the washing instructions or if the flag has value to you just to be on the safe side. If you choose, you can attempt to wash it yourself. Hand wash the flag in cold water with a mild liquid laundry detergent. Rinse it in cold water and then hang to dry or lay flat to dry.
(Above: Flag Fading From Wear)
Flag Cleaning Tips
Ideally you should take your flag inside during rain, snow or sleet to make it last longer. However as this is not always possible there are materials such as Sunbrella that can offer outdoor protection.
Consider having a sentimental flag professionally preserved and sealed in a display case to prevent damage. You can buy these casings online or directly through Accent Banner.
Always check tags or packaging instructions for acceptable washing methods and water temperatures.
Flag Cleaning Warnings
Wind is harsh and can roughen and split edges and seams; which leads to fraying. So try not fly a flag on a very windy day.
Always let the flag dry completely before storing it away for an extended period of time. A stored wet flag will rot, fall apart or grow mold and mildew. Fully dry out your flag before storage.
To learn more about flag maintenance, flag cleaning, flag installation, or to receive a custom quote please contact the professionals at Accent Banner. We're happy to instruct you over the phone with suggestions or to get you a free custom quote for any flag or banner related project you may be looking to undertake. We can also offer flag washing and flag repair services for you. Click the button below to request a free quote on these services.