After purchasing a new flag you'll want to take care of it and prevent the need for repairs. Deciding when a flag has gotten past the point of being able to be repaired is a tough decision. We've put together some useful flag repair prevention tips so you can extned the life of your flag for as long as possible.
Choose the right flag Material for the job.
Some people fly a flag o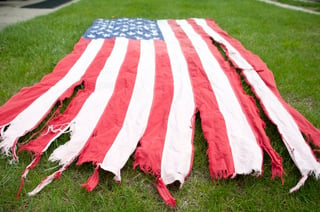 nly a handful of times throughout the year. Others feel the need to fly a flag 24/7 even in the harshest of conditions. Choosing the right type of flag for your needs is the first step in avoiding flag repairs. When selecting from the various flag material options you'll want to consider the location where you intended to fly the flag and it's exposure to the elements. Typical material choices include nylon, polyester, cotton, or various printable fabrics. Each has their own pros and cons but if your flag will be flown in a high wind environment you are best off to select a polyester flag.
Choose the Appropriate Flag Size:
Surprisingly, the size of your flag effects how long it will last. Larger flags tend to fray and tatter sooner than smaller flags as they endure a higher wind load and the fly-end of the flag snaps with more force. While you may have to choose a larger flag (especially on a larger flag pole) you'll want to make sure that whichever flag you choose isn't dissproportianately large for your needs. Typically, the flag length should be 1/4 - 1/3 the height of the flag pole. For instance a 16' flag pole should fly a 3'x5' flag and a 25' pole should fly a 4'x6' flag.
Keep your Hardware in good Shape:
Both the flag pole and hardware material (such as snap hooks) can have an effect on the life of your flag. A rusting metal pole or a wooden pole that is splintering can act like sand paper against a new flag wearing it down with every pass. Even worse the pole could rip the flag. Make sure that you keep your flag pole surface clean and free of rust and dirt to prevent tearing the flag. Having smooth and rust free connecting hardware can also prevent friction and tearing of the flag.
Keep Up with Repairs:
As soon as you notice a tear in the flag or any signs of wear you should take action. A small tear will quickly become a big tear if not repaired immediately. Typically the fly end of the flag is the first section to fray as it whips in the wind. When this occurs the end should be cut off and re-hemmed quickly before further damage develops.
Keep the Flag Clean:
Keeping your flag free of dirt, soil, and salt can go a long way to maintaining the fabric. All of these can dull the color and help tear the fabric. This can be overcome in most outdoor flags by washing and rinsing occasionally using a light detergent and gentle cycle in the washing machine. However if your flag is already damaged and showing signs of tears attempt to wash them by hand instead of a washing machine; and always air dry - don't put them in the dryer. Click to learn more about flag cleaning.
Take Them Down in Bad Weather:
Take down your flag in extreme weather conditions. Technically, the U.S. Government requires we do so. Additionally, doing so prevents the flag to exposure of rain and wind in turn preserving the life of your flag. The more you expose your flag to the effects of rain, snow and high winds, the sooner it will wear out.
Store Flags in a Dry Safe Location:
When it comes time to store your flag try to be neat and smart about it. Never store a wet flag. Dampness causes mildew and can cause the color to deteriorate. Hang the flag up evenly and let it dry out before you fold or roll it.
In conclusion, a flag is made of fabric, not metal. Every flag will eventually succumb to the ravages of the elements, fade and become weathered. However, taking simple preventative measures ahead of time will enable you to extend the life of your flag and keep it flying proudly without the need for any expensive repair or replacement.
If you find yourself in need of flag repair please feel to contact us at Accent Banner 1-800-367-3710.