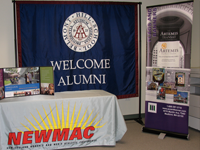 Trade shows provide you with the opportunity to really present your product line at its best. In addition to having a captive audience who is there to check out the latest trends as well as their competition -- just like you are -- trade shows give you the ability to showcase any new entries in your company so that you can gauge the industry's reaction. A key element that allows you to be noticed among all others are the trade show banners that you choose.
Let a
Retractable Banner Stand

be Your Best Ally

Retractable banner stands areone of the most versatile trade show products you can purchase. It allows you to instantly change your space without taking up a great deal of room. Here are just a few of the top reasons why this item is a key element in your success.
They instantly allow you to create

custom backdrops

to suit any need you might have.
This type of display saves room because it is retractable. You can easily tuck it off to the side when it is not in use without it taking up a great deal of space.
They are portable and designed to be moved around frequently and easily. A

retractable banner stand

is also lightweight.
They are free-standing so they look great as a stand-alone element of your display, as part of a group of items, in a full-size display or as part of a portable display.
They can fit in almost any space and there are different size frames from which to choose.

Fully Customizable to Meet Your Unique Needs
Best of all, a retractable banner stand is fully customizable to reflect your business. Whether you want trade show banners that highlight a brand new product you are rolling out or you simply want to have custom backdrops for your business available as an option for your next trade show, utilizing a retractable stand can make putting together a unique and highly-engaging trade show booth a snap.
For more than 20 years, Accent Banner has been providing Boston, MA with highly quality trade show products such as banners, stands and more.