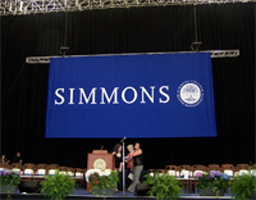 Custom backdrops allow you to make a big impression in a variety of different spaces. By customizing these backdrops, you can instantly transform any room or area to reflect your business theme or event. Here are the top three uses for these unique promtional items.
1. Graduations and Commencements
While graduations and commencements are momentous events in anyone's life, there are few facilities that have a space that is dedicated exclusively to these events. Instead, most schools, universities and other educational venues often use a gynasium, auditorium or another large room to hold their graduations and commencements. Embroidered backdrops and college gonfalons emblazoned with the school name, colors and event add to its festive and celebratory nature and give attendees an instant background for pictures.
2. Trade Shows
Trade shows are opportunities to get the word out about your business and products to a captive audience that is actually searching for what you have to offer. Given the sheer number of other businesses that often attend these events, though it can seem difficult to hook the attention of those who pass by your booth. Significantly increase your chances of doing so by adding a custom banner or embroidered table drape to your trade show area. While one that informs people of your business name and that features its logo is standard for these events, you don't need to stop there. Use custom backdrops to advertise the release of a new product, entice people to stop by and enjoy a sale or any other important occasion in the life of your business.
3. Red Carpet Events and Photo Booths
Red carpet events deserve a great deal of attention and fanfare. Often attended by dignitaries and offering plenty of opportunities for pictures, you want to make the reason for the occasion well known. Custom backdrops allow you to do so easily. Not only do they transform the area into one that is centered on the event itself, custom backdrops also provide the perfect background for a photo shoot.
Backdrops can also instantly change the theme and look of a photo booth. This customization encourages those passing by to take advantage of the photo booth rental to commemorate the event in a way that is both celebratory and memorable.