The location sets the mood and tone for the entire event. With a custom backdrop, it is easy to create settings that are unique, focused and stylish -- no matter where you are located. Here are just five creative uses for this type of backdrop.
1. Graduations
Giving a graduation the honor and celebratory feeling that it is supposed to have is easy with a graduation backdrop. The possibilities are endless when it comes to showing school spirit during graduation. You can choose a backdrop in the school colors, for example, or have a likeness of the mascot on an applique backdrop.
2. Trade Shows
Trade shows are a fantastic way to present your company to an audience who chooses to be there. It can be a challenge, though, to set yourself apart from others. A tradeshow backdrop emblazoned with an image of your new product, company logo or other eye-catching graphics is just the thing to get you noticed. Another must-have for a trade show are custom table drapes.
3. Photo Shoot
Whether you are a professional photographer -- or you simply aspire to be one -- a custom backdrop is one of the easiest ways to create the look and feel that you care trying to convey with your photographs. Having an array of different backdrops, including neutral colors as well as seasonal ones, allow you to stage the pictures you want -- both indoors and out.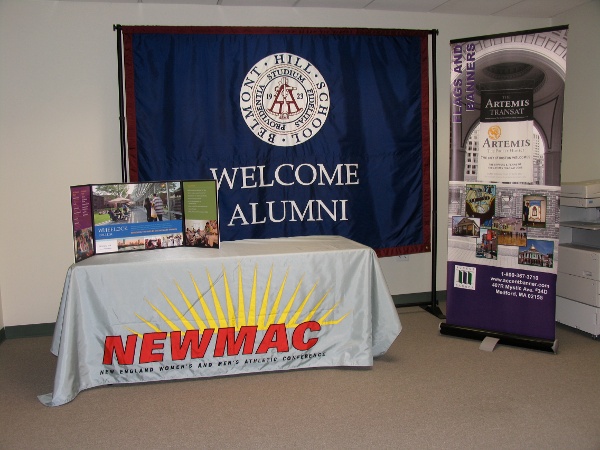 4. To Highlight a Product
A printed backdrop can serve as the ideal way to present a new product in an array of situations. Whether you are designing a space that informs visitors about the latest product in your line or you need to create a display for a new vendor within your store, custom backdrops can provide a classy space with very little effort on your part.
5. Media Event
During a media event, the focus is all on you and your company. Make sure that the background you present to the world looks professional while also still promoting your non-profit, school, business or other entity by using a printed backdrop.
Accent Banner works closely with you to design a custom banner to meet your needs. Whether you think a printed backdrop is the answer or you want to try an applique backdrop, Accent Banner can help today!