---
A trade show is your opportunity to make your product, service or business stand out from the rest. And if you really want your booth to "pop" and attract more and more prospects, your message needs to be clear, concise, and engaging. To do this, you need custom backdrops, including custom trade show banners and custom table drapes.
Chances are, if you have ever attended a trade show, you have seen very few amazing uses of graphics and colors. Most of the banners or table drapes are cluttered with graphics and unreadable text, an aesthetically unappealing design, and no clear message to the customer. On the other hand, effective corporate trade show banners are ones that clearly state the "who", the "what", and the "how" of a booth.
For many people attending a trade show, they forget the importance of making their table just as visually appealing as the rest of the booth. While bold, solid colors may seem like the way to go, this is essentially just wasted space. Custom table drapes and applique banners offer a unique way to display your logo, brand colors or other interesting information about what you have to offer.
If you have plans to promote your product or service at an upcoming trade show, avoid getting your booth grouped along with the ineffective eyesores. Instead, save time, money, and get more business for your investment by taking advantage of every inch of space in your booth with custom backdrops.
Read on to find out what it takes to create truly remarkable one-of-a-kind trade show table skirts and banners that enhance your message and "speak" to your potential customers.
Create visual recognition:
What is different about your brand? What helps you stand out from your competition? For example, if your logo includes a talking computer, put this on your custom table drapes. Make sure that what is recognizable about you and your brand is visible on your table. This means when people are standing outside or inside of the booth, they will see your logo and name and be able to visually recognize who you are and what you have to offer.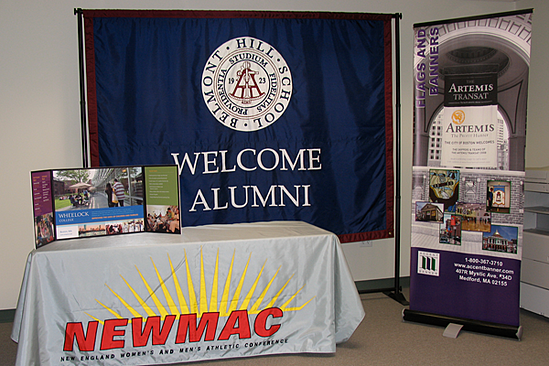 Be uniquely visual
To stand out from the competition at a trade show, be unique in your visual design. Consider having an applique trade show banners created and/or custom table skirts that are interactive or tech savvy. However, remember to keep it simple. Refrain from using too many images. Instead keep it down to your logo and/or one other image, because one image truly does tell a thousand words.
All in all, by catching people's attention, they'll come and take a look at your booth. Do this with custom-made table drapes that are engaging and uniquely state a clear message. Also, when people come to your booth, make their experience fun by offering a game or giving away unique items that symbolize who you are. By following these tips, chances are, you will be the hit of the next tradeshow.
---