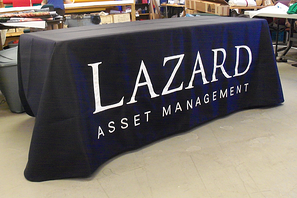 Standing out to potential new students and customers if always challenging, specially at trade shows where there are so many other institutions represented. How do you make your school or businses stand out from the crowd? Table drapes provide a touch of class and a great way to keep your prospect's attention focused on the college instead of what's under the table. Here are more details on why using beautiful custom table drapes makes a great impression to prospective students and parents.
College Trade Shows with Custom
Table Drapes
If you ask anyone who has been active in trade shows, expos or similar events, they'll tell you that a booth design that promotes your message and doesn't distract from it is vital to how successful your presence will be at outreach events. Custom embroidered table skirts can go a long way to making that happen. Table drapes help hide the diverse items that you're storing under your exhibit tables, whether it's additional marketing materials, storage boxes for display pieces or your personal effects that you've stashed quickly while setting up the rest of your booth.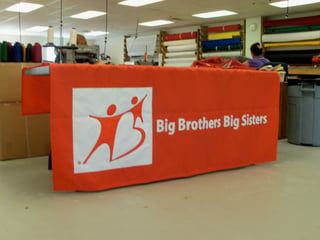 How do custom table skirts accomplish this? They help pull your booth's appearance together, making it look more professional. By having beautiful table drapes, you're not only attracting college applicants who may be interested in the programs you have to offer, you're also impressing their parents who will play a large part in the prospect's decision as well as probably paying a portion of the student's tuition, housing and fees. By presenting a professional appearance at a college trade show, you're showing that your institution is serious about recruiting the best students and will see promising results when you upgrade your display with custom table drapes. Investing in quality trade show products for your educational booth is well worth the investment in the long run.
When you're looking for trade show products that really make the grade, Accent Banner has everything you need to turn your trade show booth from boring to exceptional. We've been proudly serving the greater Boston area with high-quality products for decades. Please contact us today to receive a custom quote for your products for your next trade show or event.