Large format banners are the ideal method of communicating with your customers. Their large size make them vivid reminders of what you have in store or what event you are promoting. Large format banners provide the savvy business owner with a highly personalized, colorful and pleasant way of forming connections with their customers.
Our Manufacturing Process
Creating large format banners is a big undertaking (no pun intended). In order to scale up an image or text while also keeping the image from distorting requires the right equipment and skill. When we create large format banners we work closely with the venue to make sure that the proportions make sense and are made with the optimal impact for the location that they are going in. In addition to simply designing and creating the banners we also have the capability to install them. Installing an 80 ft banner is a very difficult and potentially dangerous undertaking for somebody that doesn't have experience. Our dedicated team has installed hundreds of large format banners in almost every foreseeable location in the Boston area. If you're interested in installing a large format banner please hire a specialist who has done banner installation before.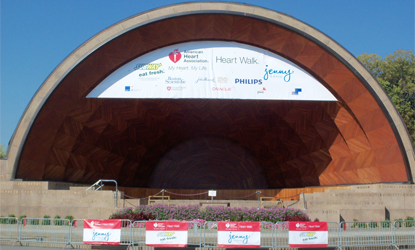 Large format banner custom fit to the Hatch Shell for The Boston Heart Walk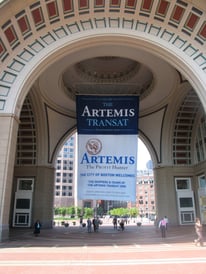 Because these banners are available on a range of different types of paper and use innovative printing techniques, you are limited only by your imagination when it comes to the options available. With the addition of premium laminates, grommets, coating, reinforced edges and other finishing work services, you can customize your banners for a variety of uses including outdoors. Our experts can recommend the appropriate finishing work touches to complete your project.
If you're considering using a large format banner for your business or event call us to setup a consultation. Our experts can walk you through the process of designing, creating, installing, and removing banners of any size.