Printing offers you a multitude of possibilities that can put your business or event at the forefront of everyone's attention. Large format banners are an ideal - and highly effective - way to attract such attention. With the innovations in technology within the past few years, today you can use these custom printing methods to deliver your message in an array of creative and unique ways.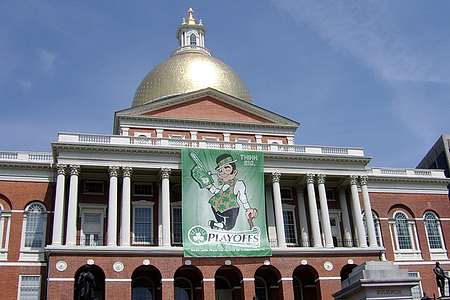 This large format banner on the State House creates quite an impression
Large Format Printing Explained
Large format printing is simply printing on a larger scale. This type of printing delivers billboards, building wraps and banners -- to name just a few possibilities. Banners can often be printed to any scale, and installed succesfully depending on the available equipment. However you may want to consult a professional when attempting large format banner installation.
Due to the digital technology that is standard in the business today, there is no loss of intricate details or designs when wide format printing is chosen. Color schemes and the tiniest details are possible given the advances with new materials and new inks that add even more flexibility to your projects.
Putting Large Format Banner Printing to Use
Using large format printing helps you to garner the attention of those that you most want to engage.
Durable banners enable you to announce your event or business without fear that natural elements will ruin your banners, flags or posters and render them illegible.
Banners that are double-sided ensure that your message is delivered effectively so that everyone can see it -- regardless of their direction of travel.
Reasons Why Large Format Printing is Good for Business
The size of these banners is the number one reason why this type of printing is great for your business. Large custom banners really grabs the attention. This is an important element in the crowded field of advertisement as the businesses of today jostle for the attentions of their audience.