As a method for dampening sound, acoustic wall panels are the preferred choice. Typically made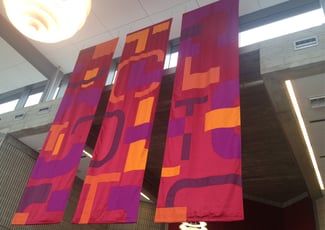 offiberglass, acoustic paneling can be thought of as being part of the permanent architecture of a room. Using the cutting-edge techniques that are available today, a range of different acoustic wall panels can be designed to meet the needs of any type of business or organization.
History of
Acoustic Paneling
A number of years ago, acoustic panels were introduced to the market via products from a Canadian firm. In order to stymie the crushing of the edges that occurred, they were reinforced with polyester resin. When hardened, this material resulted in an edge that prevented crushing.
Innovations Take Over
In the United States, manufacturers of acoustic wall panels built upon the solutions crafted by the Canadian businesses. The technology available today allows a plethora of options for custom panels. These include fabric paneling that involves laminating the fabric design to the flat and smooth surfaces of the paneling, thanks to the enormous strides realized by acoustic panel makers in this country.
Using
Fabric Paneling
While most people probably think primarily about the sound deafening properties of acoustic panels, they can also be used to improve speech and noise quality while reducing interference. While the specifics can vary depending on the usage, in general a one-inch thick acoustic panel can provide an absorption value of between 90 and 95 percent at 500 Hertz. While this value is within the typical voice frequency range, other applications, such as a band or sound room, might be better served by fabric paneling that is two inches thick due to the low frequencies that are often utilized.
Installing
Custom Panels
Though acoustic panels can be affixed to walls using male/female Z-clips to facilitate their easy relocation, in most cases these panels are not removed once they are installed. For this reason, impaling clips are typically mounted to the back of the panels to allow for affordable and quick installation.
At Accent Banner, we can create custom acoustic paneling that provides a colorful and informative method of exciting people while still getting your message across. We have been meeting the needs of Boston, MA area businesses for more than 20 years and would love to create innovative solutions with you.