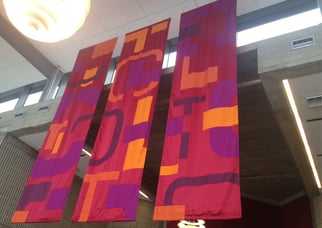 With more than one in six people in our country suffering from hearing loss, it's become more important than ever to provide good acoustics in meeting halls, auditoriums and similar areas. But what can your organization, school or business do when you have an area where the acoustics are poor, creating a lot of background noise that's hard to hear in? Re-designing the space as a whole just to improve the acoustics is beyond the means of most organizations, but there are many smaller methods you can use to dampen the sound. Let's take a look at sound dampening panels and how they can improve acoustics in your building:
What is
acoustic paneling

?

Acoustic paneling is a combination of sound dampening panels wrapped with appliqued or printed covers. Though the sound dampening panels on their own help provide sound suppression, most businesses, organizations or schools want panels that compliment their existing decor or promotes their marketing messages. For that reason, acoustic paneling includes a cover that can be completely customized to meet that need. Whether it's high-quality appliqued graphics or eye-catching, multi-colored printed designs, this cover is the component that takes an acoustic panel from ordinary to fabulous.
How is it used?
Acoustic paneling is used in permanent installations by mounting it on a wall or by putting it in frames for cubicle dividers or similar sound dampening panels. Acoustic paneling also provides privacy. It can be used on a more temporary basis in exhibit display design, where it can cover a back or side wall in your display to provide a quieter area within your booth for talking with prospective clients or other interested parties. By creating this quieter area, you're able to better communicate with your prospect without having to shout about the noise of the crowd
Now that you know how to improve the acoustics in your building, it's time to take action by ordering some acoustic paneling to solve your noise problem. At Accent Banner, we've been serving the greater Boston area in one fashion or another since 1938. Please contact us today for more information on acoustic paneling, to design your panels to compliment your building or to get a free quote.