Printed Flags Vs. Sewn Flags: The Pros and Cons
So you're thinking about purchasing a quality flag or banner from Accent Banner, but you're having a hard time figuring out which would work best for you. One of our custom printed flags or one of our hand-stitched sewn flags? Well, you're not alone, a lot of our customers ask us which would be the better value and work best for their intended use. Or maybe one of our "hybrid flag" options which is a combination of both. Either way it can be a tough decision so we thought we'd put together a little primer with information about the characteristics of each to help you decide.
*Although we provide all types of flags and banners we recognize applique as the premier style for creating a quality beautiful flag. Applique is a our specialty and we consider our staff to be some of the best in the world at creating custom appliqued flags and banners. Learn more about the applique process here before continuing this article.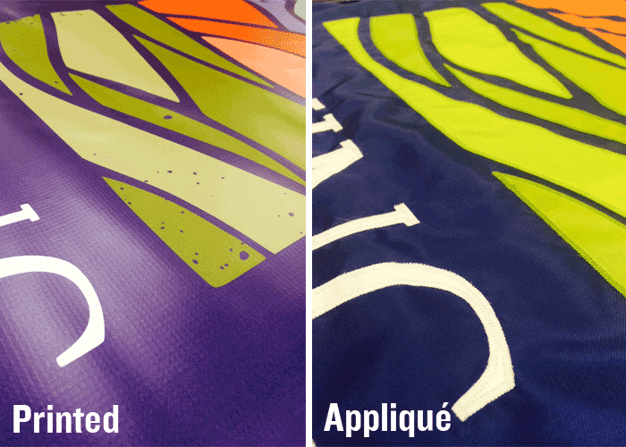 Printed Flags:
The advantages of choosing custom printed flags and banners include:
Timely Delivery - Printing is almost alway faster than sewing, so if you have to have your flag quickly, this is probably the best choice.

Versatility - Dye-sublimation printing works well for producing flags with intricate designs or with lots of colors, with the ability to add shading and outlines around logos and lettering, without affecting the cost significantly.

Appearance and Quality - Dye-sublimation allows you to use as many colors as you like, and get a quality product manufactured quickly. However if you want real quality and professional appearance appliqued or sewn flags are really the way to go.
Applique and Sewn Flags:
Tradition - Both sewn flags and applique flags have been used traditionally for centuries, so if you you're having a heritage flag made, it'll be constructed much like the original was.

Best Quality - Sewn construction is the best way to make a flag from a quality point of view. From the raised surfaces of the appliqued elements to the neat stitching along the border, it just feels like a high-quality product in the hand, and it is.

Color Versatility - Although a custom printed flag gives you flexibility in the use of color, sewn flags and applique flags can also be made in almost any color, and it's a good choice for solid color flags and logos with a simple design. Colors can even be layerd on top of eachother to create brand new color creations. Our in-house specialists at Accent Banner are some of the best at creating beautiful color combinations for any project.
Accent Banner can also create hybrid flags with the best qualities of both construction methods. We consider ourselves the leaders in applique flags and custom sewn banner projects. Contact us today for more information and to receive a free quote from a member of our staff.