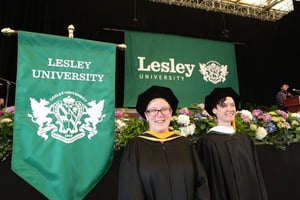 Gonfalons, commonly referred to as graduation banners, have long been a staple of commencement ceremonies across the world. There seems to be nothing else that expresses as much elegance or honor as one feels when watching a class of graduates marching down the aisle led by a gonfalon displaying their department or college name proudly. Accent Banner has been supplying schools and organizations around the globe with applique, print, or hybrid (a combination of applique and print) gonfalons for years. In this blog we discuss the most common gonfalon shapes, sizes, options, and accessories.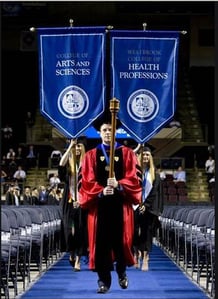 Every gonfalon produced is custom to the client's needs, any size or shape can be achieved. However, common sizes of gonfalons when used to march down the aisle as well as displayed are 24"W x 42"H or 36"W x 60"H. These sizes are large enough for the gonfalon to be read from a distance yet small enough to walk with. Keep in mind we can produce whatever size and shape works best for your commencement ceremony. Recently we produced gonfalons so large they were used as backdrops!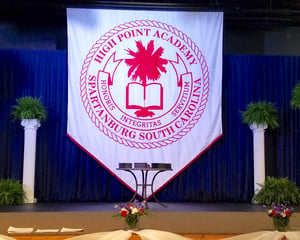 Typically, gonfalons have a vertical orientation and are either rectangular with a flat bottom, a swallowtail bottom, or a triangle tip bottom. Similarly, to the sizing of a gonfalon, one can request any shape or orientation they desire. For some a horizontal orientation works best. It all just depends on how you intend to use them and where you intend to display them.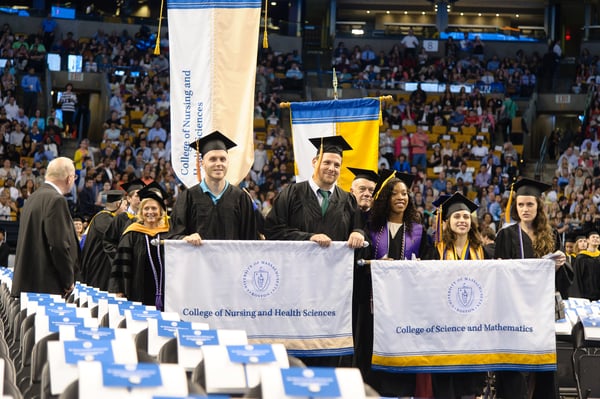 Typical gonfalon options include:
- A pole sleeve along the top
- A button hole in the pole sleeve to expose the crossbar hardware
- A chain or lightweight dowel sewn into the bottom sleeve of rectangular gonfalons
- A Velcro strap on the back for connecting to a vertical pole
- Fringe along both sides and the bottom or the just the bottom

No gonfalon is complete without accessories. Consider how you intend on using and displaying the gonfalon to determine which of the accessories below best fit your needs.
- Vertical wood pole
- Horizontal wood crossbar
- Acorn ornaments for the top of the vertical pole and ends of the crossbar
Note: various decorative ornaments are available as well
- Brass hook and eye hardware for connecting the crossbar to the vertical pole
- Weighted stand or base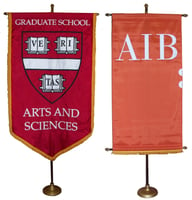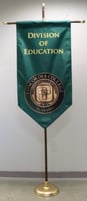 There are many options to gonfalons but don't let that deter you! Accent Banner has been in the gonfalon game for a long time and are happy to help guide you through the process. Once you have our custom-made gonfalons on display your commencement ceremony will look better than ever!