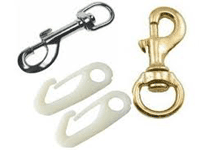 When it comes to flying your flags properly and securely, you will want to make sure you have the best parts. The following article is about a small but highly important piece of equipment for any flag; the snap hook.
What are Snap Hooks?
Snap hooks attach your flag to the halyard, or rope. You can find them in nylon, brass or stainless steel. Nylon hooks are most commonly used in residential areas as they produce less noise when they hit against your flag pole. Brass and stainless-steel are more often found in commercial areas because they will last longer and withstand the wear and tear from the weather. Stainless-steel snaph ooks are by far the most durable of the three. If you buy a brass or stainless-steel snap hook, you should add snap hook covers to protect them and cut the amount of noise they create. Checkout our step by step article on how to attach a snap hook cover for more information.
How to Attach a Snap Hook?