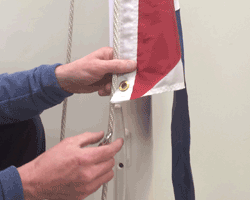 How to Re-rope a Flag Pole
Over time a flagpole rope (or halyard) can become frayed, or even break. You can avoid this problem though! Be sure to inspect the halyard and connecting hardware when raising or lowering the flag. Make sure to check the connecting points of snap hooks as hardware can create friction on the halyard. If you notice fraying or discoloration of the halyard it's time to make adjustments or replace the halyard entirely. If damage is minimal you can prolong the life of your halyard by moving the snap hooks to a new location. However, if you need to replace the halyard its best to do so while the halyard is still attached to the pole. Below is a step-by-step DIY flagpole repair guide to help you re-rope your flagpole.
*If the halyard is no longer threaded through the pulley at the top of the pole and you are unable to reach that height on your own you will need to call in professionals such as Accent Banner's Field Services team to resolve the issue. Contact us for a Quote
Note: Do not attempt to re-rope your flagpole if the halyard is wet. The moisture in the halyard will prevent the electrical tape from sticking.