Whether you're flying national flags, advertising flags, or custom banners, these three tips about proper upkeep will ensure that your flags are as respectable as whatever they symbolize.
1.) Prevent Flag from Fading

The sun can be your outdoor flag's worst enemy. Protect your flags and banners with the same vigilance you would protect your own skin, and be sure to spray your new flag with UV fabric protector. While fading is unavoidable, applying fabric protector can slow down the fading process. The spray not only protects your flag from UV rays, but it also creates a protective layer against dirt and debris so that it can be easily removed, which makes cleaning your flag that much simpler. While you can't block your outdoor flag from light while it's hanging, you can do so when storing your flag. When in storage, keep the flag or banner somewhere blocked from both natural and artificial light.

2.) Flagpole Maintenance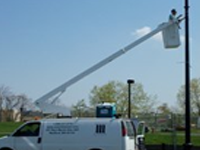 Because of the nature of outdoor flags and their exposure to the elements, it is essential to keep up with any small rips and tears
that accumulate over time. It's also important to keep an eye on the condition of your flagpole. Flagpole installation and flagpole care goes hand in hand with maintaining the flag itself. If you notice any deterioration, be sure to contact a flagpole specialist to make sure your flagpole is safe. Depending on the material the flagpole is made out of you may experience rotting or rusting that can make your flagpole a hazard. If you're considering installing a flagpole yourself we recommend downloading our free guide to installing a flagpole first. This guide will help insure that you complete the project safely.
3.) Pay Attention to the Weather
High winds and rain can cause damage to your flag. Because of this, it is advisable to lower your flag during times of inclement weather. While you can't always anticipate damage, any winds over forty miles an hour can cause significant damage, so it is recommended that you lower your flag when high winds are possible. It is also recommended that you lower your flag overnight or whenever you are away for long periods of time, as you will be less able to monitor the weather and act accordingly during these times.