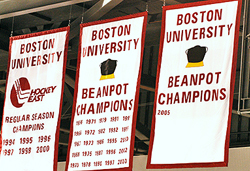 Whether your team is on home turf or traveling across the country to compete, make your presence known with a standout team flag by
Accent Banner
. Waving a team flag at away games and events fires up your athletes, reinforces their sense of pride and team, and lets your opponent know "WE ARE HERE!" Back home, on your own turf, athletics banners catch everyone's attention, unite teammates who share a common goal, celebrate athlete and team accomplishments and set the bar for more achievement to follow, they serve as a beacon of school pride, reinforce a sense of identity, and they continue the traditions of your program.

Types of Custom Flags and Sports Banners
Our athletic banners and flags are in high demand at every level from high school, to university and collegiate, and professional teams alike. If you are an athletic director or coach consider collaborating with us to craft a uniquely designed custom flag or banner that your team will treasure for years to come.
Our flags and banners come in three varieties (explained here in more detail):
Applique Banners -- highest possible value, quality craftsmanship, impressive aesthetic
Printed Flags -- high-resolution, unlimited design options, cost-effective
Hybrid Flags -- combines the craftmanship of applique and the design capabilities of print
These 3 product options allow us to cater to your specific needs. We take the time to weigh the benefits and drawbacks of each option so you can feel confident that your flag will represent your team well. We also provide a myriad of fabric colors and endless size options so your eye-catching banner or flag can be displayed with ease in your gymnasium, arena, flagpole, or outdoor facilities. We recommend downloading our free guide to athletics banners which is an excellent resource for design tips, style options and access to a gallery of our top-notch works.
Request a Custom Banner Quote
Once you have a vision for your flag or banner, please take advantage of our free quote offer so we can get started on bringing your design to life. Feel free to contact us with any inquiries - we are happy to help!