Custom Graduation Gonfalons for UMass Boston
Accent Banner has a strong relationship with the Athletic and Special Events Departments at the University of Massachusetts – Boston located at Columbus Point. The UMass Boston campuses is the third largest in the University of Massachussetts System. The special events department handles plans and executes the annual graduation ceremonies.
Type of Project:
Accent Banner was selected to produce a gonfalon and parade banner for the new academic programs within the University. The banners were displayed and carried at their commencement ceremony as the students walked down the aisle to graduate.
Accent Banner also provides custom gonfalons and parade banners for new courses of study such as the Honors College and the School for Global Inclusion and Social Development.
"Dear Accent Banner, Thank you for helping to make commencement a special day for all of our graduates. The banners looked beautiful and they contributed to the festive atmosphere at the TD Garden ceremony and at our on campus ceremonies."

- UMASS Boston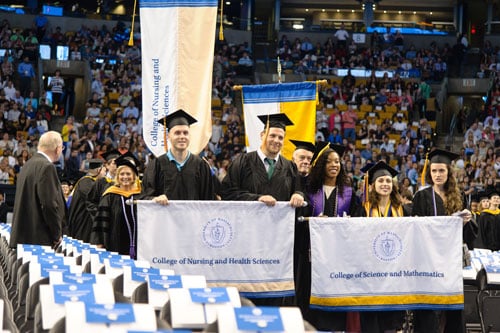 Customer's Needs and Goals with the Project:
The intention fo this project was to provide a product that would indentify each college's group of graduating students with in UMass Boston as well as reinforce the University's branding and identity. Accent Banner provide a series of banners that achieved the intended result and supported the graduation's aesthetic theme and high quality of the graduation banner program.
Our Solution:
Several years ago Accent Banner worked with UMass Boston to design a gonfalon and parade banner format that could be customized to each college's branding guidelines. In other words every college within the University uses the same style of gonfalon and banner, however each one displays a different college name and color scheme. For the 2016 graduation, we introduced the School for the Environment with a new color. Nylon was used for the appliqued gonfalon and banners. Nylon is durble, washable, and is available in a variety of colors. A perfect fit for this type of project.
So What Makes this Project Special?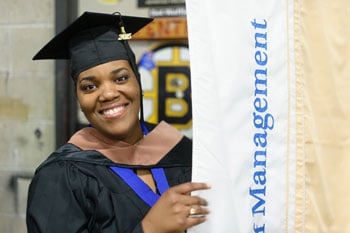 The UMB gonfalon & banner solution was unique at one time but now it perpetuates their current graduation branding, theme and tradition. This process can remain the same until UMB decides to change their graduation branding.
Accent Banner is the preferred vendor for the project because we are able to deliver their product under a tight production schedule without sacrificing our high standards of quality. Putting it simply, we provide a good product and customer service experience making the entire process easy on our contacts at the University of Massachusetts in Boston.