Installing the flagpole and raising your flag is not the only aspect of ownership that you need to be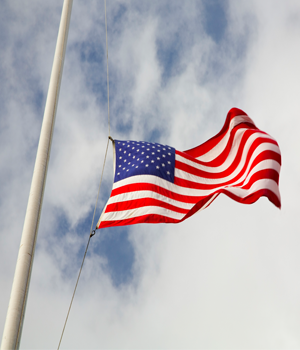 aware of in order to have a visually-pleasing flag display. You also need to make sure you understand the basics of flagpole care. Performing the proper flagpole maintenance can also help extend the lifespan of the flagpole as well as the flag itself.
Cleaning a Flagpole
The method you use to clean a flagpole will depend largely on its material.
Aluminum flagpoles often need little to no care after the

flagpole installation

. This is typically due to the finish which tends allow rain to wash much of the dirt and debris from the structure. If dirt does build up, though, you can use a mild detergent to wipe it away. A brushed mechanical finish that looks discolored can often be restored by using cleaning products specially designed for that purpose.
Stainless steel also needs almost no maintenance beyond what Mother Nature provides in the form of precipitation.
Steel flagpoles are finished with a coating that often needs to be refinished at some point. The lifespan of that coating typically ranges from a couple of years to more than 20 -- depending on the conditions and location.
Bronze flagpoles begin to discolor after a period of time. This comes in the form of the material darkening called patina. Preventing patina requires maintenance by applying a mixture of paraffin oil and lemon oil.
Halyards and Fittings
Inspecting the halyards and fittings of your flagpole on a regular basis -- every three months is a good rule of thumb -- allows you to stay on top of the necessary flagpole repair while it is still a small matter. Check the halyard cable for fraying or kinking and replace it before it breaks. Otherwise, replacing it could be a more time-consuming process than it needs to be. In addition, the mounting bolts need to be checked to ensure that they are still tight. The flag attachments, counterweight cover and attachments and the dog spring and assembly should all be visually inspected to ensure that there are no loose or missing pieces that could lead to further breakage and damage.