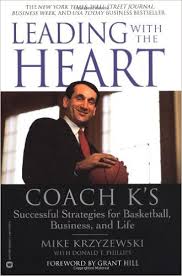 The secret to being the kind of coach that can consistently motivate a team to win is being the kind of coach who knows how to keep himself/herself motivated too. And there's no shortage of legendary coaching books by some of the country's all-time best coaches to provide insight and fresh ideas to coaches everywhere. To that end, here are the top 5 coaching books of all time, a must-read motivational library for all good coaches who aspire to be great leaders:
5. Leading With Heart, by Mike Krzyzewski
After more than 20 years coaching Duke's Blue Devils, Krzyzewski knows a thing or two about consistent winning. Learn his signature method of "storming, performing and norming" and adapt his recruitment-transformation philosophy to fit your own team's unique needs. Krzyzewski had already won 3 NCAA titles and had been to 10 final fours when he was hired to coach U.S.A. Basketball's senior men's team. He's often been quoted as saying that the U.S.A. Basketball team appointment "opened his eyes to greater possibilities" and made him a better coach, a fact he proved when he led the team to 2 Olympic Gold Medals and 2 FIBA World Cups.
4. Mindgames: Phil Jackson's Long Strange Journey, by Roland Lazenby
In Mindgames, Roland Lazenby tracks Phil Jackson's rise from relative obscurity in the Continental Basketball Association to 9 championship rings in the NBA. He single-handedly transformed the Chicago Bulls from a one-man (Jordan) wonder to a 5-man team that dominated the sport. Jackson possessed a singular determination to control the competitive environment. According to Lazenby, Phil Jackson embodied aspects of teacher, philosopher, counselor, psychologist, and brazen manipulator to propel his teams to greatness. Fascinating reading for coaches of every sport!
3. Bear Bryant on Leadership, by Pat Williams and Tommy Ford
Bear Bryant is the icon of college football coaching. Bryant won 13 SEC championships and 6 national championships for the University of Alabama's Crimson Tide. Leadership expert Pat Williams teamed up with Tommy Ford, athletics executive at UA to shed some light on what made Bryant such a great leader, as well as how you can incorporate some of his leadership qualities into your own coaching career.
2. The Lombardi Rules, by Vince Lombardi
"Winning isn't everything. It's the only thing." Who hasn't heard this most famous quote from one of the best NFL coaches in the history of the game? In The Lombardi Rules, the coach who lent his name to the Super Bowl trophy, offers 26 lessons to give your coaching game the Lombardi edge.
1. Wooden on Leadership, by John Wooden
Arguably the best coach ever in all of sports (and so rated by Sporting News), John Wooden is a man who all coaches -- even experienced ones -- can learn a thing or two from. Wooden was the basketball coach at UCLA in the 1970s, leading his team to an incredible 10 national championships in 12 years! He won an NCAA championship in the final game of his career and entered retirement at the top of his game, at age 65. In fact, you can learn so much from Wooden, that we were torn between Wooden on Leadership and his aptly named, Wooden: A Lifetime of Observations and Reflections, On and Off the Court. Both are worthy of your attention, since Wooden will not only teach you how to be a better coach, but how to be a better person as well. And there just might be a correlation between the two!
By the way, one of the best ways to motivate your players is with a student body that's behind them all the way. Motivate your team and your school with an athletics banner or flag and watch your school's team spirit soar! Contact us for your free brochure today!