Products Showcased: Large Format Banners, Light pole Banners
Interview By:
Lisa Marie Taylor: Creative Team | Experiences Designer - PWC
What Was Your Experience Before Using Accent Banner: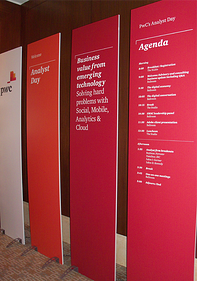 Q: Summarize three challenges or points of frustration you faced before you started working with Accent Banner. How has Accent Banner specifically addressed those problems?
A: 1. Finding a vendor with competitive pricing. 2. Working with a vendor that had good customer service and was knowledgeable about different products or was willing to help with out-of-the-box ideas. 3. Working with a vendor that had a thorough understanding of our fast-paced culture.
Q: What tactics did you try before you started using Accent Banner? What were the results?
A: I had to check on my project numerous times leading up to the delivery date to make sure it was on schedule. I was always nervous about meeting deadlines and getting the large format banners delivered on time.
Your Experience Using Accent Banner:
Q:What was the big a-ha moment when you decided you needed to try Accent Banner?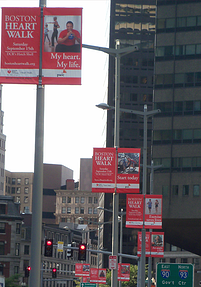 A: Actually, we started working with Accent Banner (AB) because of a recommendation. I knew we were in good hands when Derrek would help me share deadlines and details on team calls and reassure me his team would install and remove our light pole banners as promised, even if that required being available at odd hours. One other thing that impressed me was how determined AB was to making our tent banner idea work. In order to avoid potential inclement weather issues, and to appease all parties involved, AB did a lot of research and testing on their own to come up with the perfect pulley system.
Q: What are the top three features you "love" about Accent Banner?
A: Customer Service, Competitive Pricing, Quality of Poduct, range of Product, Installation/Removal Services, Design Capabilities, "On stop Shop" Convenience, Response Time, Local Company, and their Consulting Services