Client Spotlight: Preotle, Lane & Associates
Checkout our video spotlight and interview with John Preotle of Preotle, Lane, & Associates located at Rivers Edge in Medford, MA. Preotle, Lane, and Associates is a real estate development company that selected Accent Banner as their vendor

for custom pole banners, fence banners, pennants and other custom signage for this new project.

Q: What is your name, title, role, and organization?
I'm John Preotle. I'm a partner in Preotle, Lane & Associates.
Q: Tell us briefly about your organization?
We're a real estate owner, manager, and developer. We buy or develop properties that we think through which we can create a lot of value for our clients and ourselves and our partners.
Q: How Did You First Hear About Accent Banner?
They were recommended to us by a graphics firm, Kor Group, that we were using, which is a very high-quality firm. We did not know Accent Banner at the time, and I think Kor may have mentioned another firm or two, but Accent Banner was located in Medford. This particular development's in Medford. So we said, "Well, if they've got Kor's recommendation, and they're local, we'll use them." The first experience was very, very good and if anything, the experiences have done nothing but gotten better.
Q: What were you hoping to achieve with your banner or flag project?
One of the goals was to make sure that everything we did was at a certain high level of quality. Everything can't be perfect; everything can't be ... but everything should be good or better than good. Accent Banner certainly falls within that category. Everything that Accent Banner's ever produced for us, we've been very pleased with.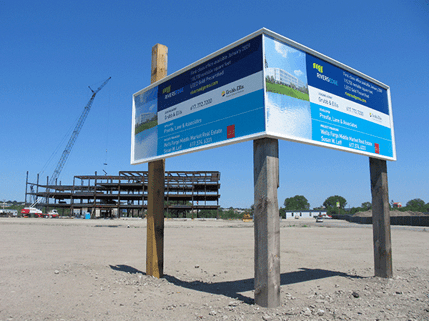 *In addition to the custom pole banners and wind banners we created custom signage to advertise the development while it was being built.
Q: Briefly describe the product option(s) that you and Accent Banner decided to use to solve your need.

We've done many, many things with them since then. We've replaced pennants. We have banners announcing entries to our park. We have fence banners that show renderings or photographs of the site itself. We've done signage in the garage. We've done signage on the site with them. As a matter of a fact, we've done so many things with them that we're almost to the point when almost anything comes up, our folks will say, "Well, can Accent Banner do that? They do everything else very well. Maybe they can do that, too." Even things that Accent Banner doesn't do.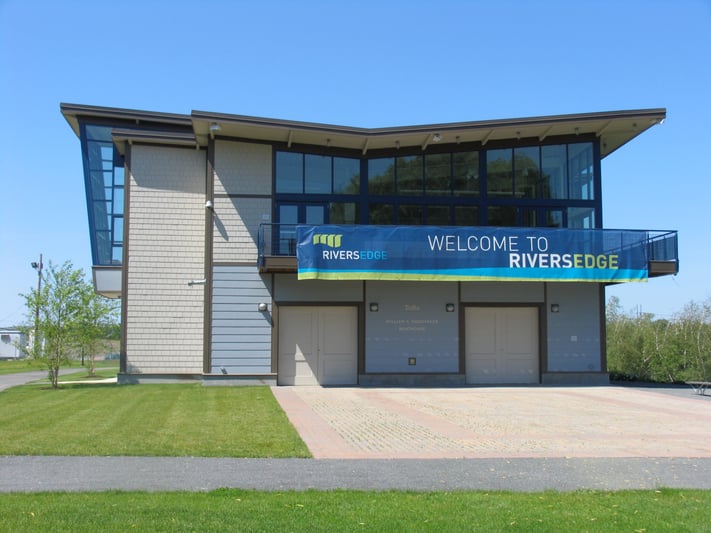 Q: How was your overall experience with Accent Banner?
Sessions such as this, it's easy to be positive, but Accent Banner performance has been excellent. I'm happy with them. We couldn't be more pleased. We find them fantastic.
*Special Thanks to John Preotle of Preotle, Lane, and Associates for the kind words and continued business